SAAB 900 Turbo S Cabriolet 'Monte Carlo' 1992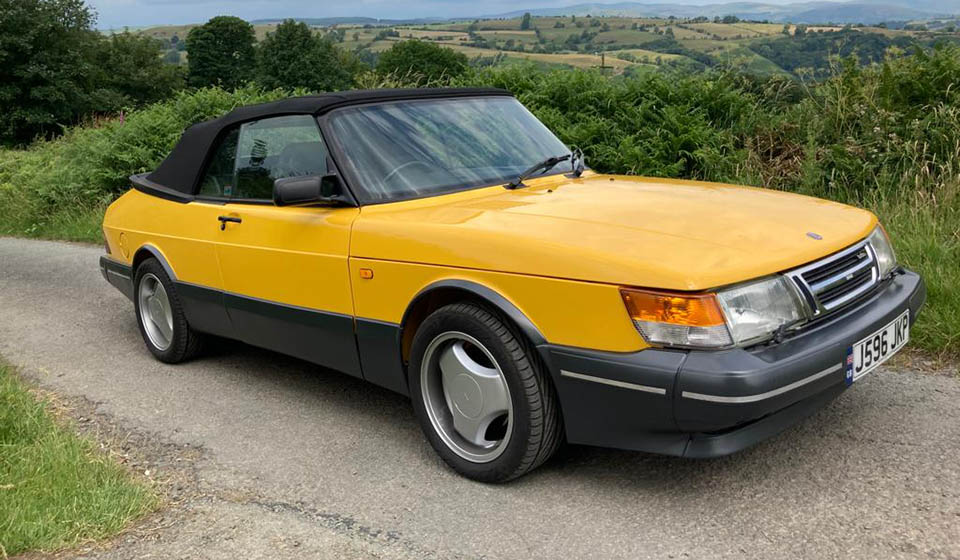 The SAAB 900 Turbo has been restored to the highest quality and has undergone a full service at 2Refinish Classic Cars. The SAAB 900 Turbo S Cabriolet in Monte Carlo Yellow is a stand-out, iconic and rare classic car.
In the classic car workshop, the underside was overhauled, fabricating any holes caused by rust and corrosion. Reconstruction of the front chassis, with 3 layers of fabrication was required. The clutch and slave cylinder were also replaced. Despite this, the engine of the SAAB T16S was in good working order.
New trailing arms for the rear suspension were fitted. Also, new front and rear suspension in kit form, and bushes were fitted, using genuine SAAB parts.
The rear coils, anti-roll bar, and fuel tank were all refurbished. The fuel tank was fitted with new fuel tank straps. New front and rear discs, with refurbished calipers fitted, along with new green brake pipes were installed.
Both doors were removed and stripped. The rusty inner door bottom was replaced with a new panel and the wheel arches and bodywork underwent preparation for a full respray.
SAAB is well known for their build quality, and this 1992 Limited Edition (No.152) SAAB 900 Monte Carlo Convertible was no exception. Generally, SAABs have little or only superficial corrosion, which can be easily arrested and repaired to keep the car running for many years to come after the restoration.
"The customer was absolutely delighted with the result and he enjoys regularly driving his classic SAAB, especially on a bright summer's day, with the roof off."